Hurricane Florence, which is nearing the US East Coast, could "kill a lot of people", officials warn.
Federal Emergency Management Agency (Fema) administrator Brock Long said storm surges may bring catastrophic flooding to inland areas.
Though Florence has been downgraded to a category two storm with 110mph (175km/h) winds, Mr Long said it remained "very dangerous".
He warned of "feet of rain not inches" in the Carolinas and Virginia.
Why isn't the downgraded storm less of a threat?
Mr Long told Thursday morning's news conference that while Florence's wind speed had dipped, its hurricane-force wind field had expanded and total rainfall predictions were unchanged.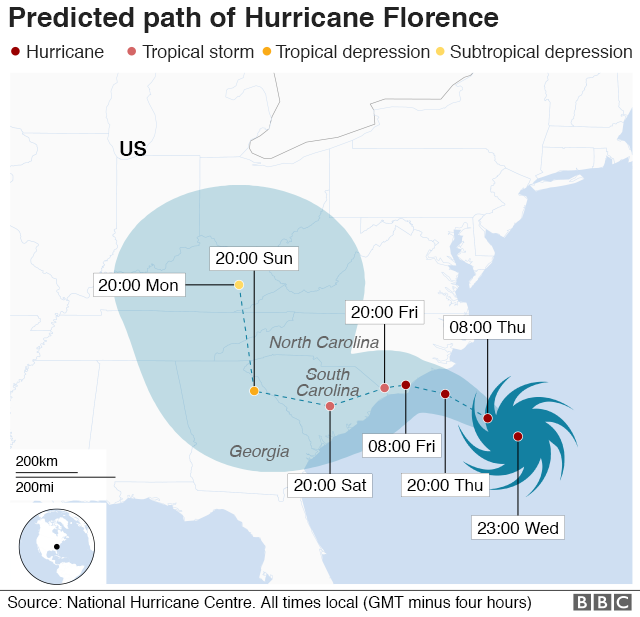 Floodwaters may rise up to 13ft (4m) as rivers see their flows "reversed", meteorologists have warned.
"So this is a very dangerous storm," said Mr Long. "Inland flooding kills a lot of people unfortunately and that's what we're about to see."
He warned that the deluge would begin within a matter of hours.
"Your time is running out," he said. "The ocean is going to start rising."

"Your time to get out of those areas in storm surge inundation is coming to a close. I cannot emphasise that enough."
He said that people living near rivers, streams and lowland areas in the region were most at risk.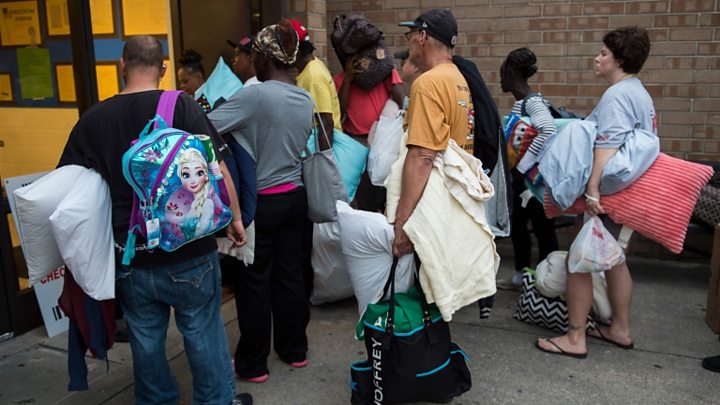 What's the situation on the ground?
The storm's centre is still 145 miles from Wilmington, North Carolina, but tropical-storm strength winds and heavy rains have already begun hitting the state's Outer Banks barrier islands.
The latest weather predictions show the storm slowing to a near standstill as it pummels the coast with "copious amounts of rain" from Thursday night to Saturday, said Mr Long.
Nearly 1.7 million people have been ordered to evacuate the coastline of North Carolina, South Carolina and Virginia, and several highways have been reversed to aid the exodus.
More than 10 million Americans live in places currently under storm warnings.
Petrol stations in the area are reporting shortages and energy companies predict that one to three million homes and businesses may lose power.
Over 1,400 flights have been cancelled, according to FlightAware.com, as most of the coastal region's airports closed to ride out the storm.

North Carolina Governor Roy Cooper warned people: "Stay on guard. This is a powerful storm that can kill.
"Today the threat becomes a reality."
Emergency workers are arriving from other parts of the US to aid in rescues.
The Coast Guard has shallow water response boats ready to help trapped residents.
Is global warming to blame?
The relationship between climate change and hurricanes is a complex one.
Warmer seas power hurricanes. So as the temperature of ocean water goes up, we might expect the intensity of hurricanes to increase in future.
A hotter atmosphere can also hold more water, so this should allow hurricanes to dump more water on affected areas.
But there are so many factors that contribute to these rare events, it has been difficult to tease out clear trends from the data.