Torrential rains continue to batter Australia's east coast, intensifying the flood crisis in Sydney as thousands more residents are ordered to leave their homes after rivers swiftly rose past danger levels.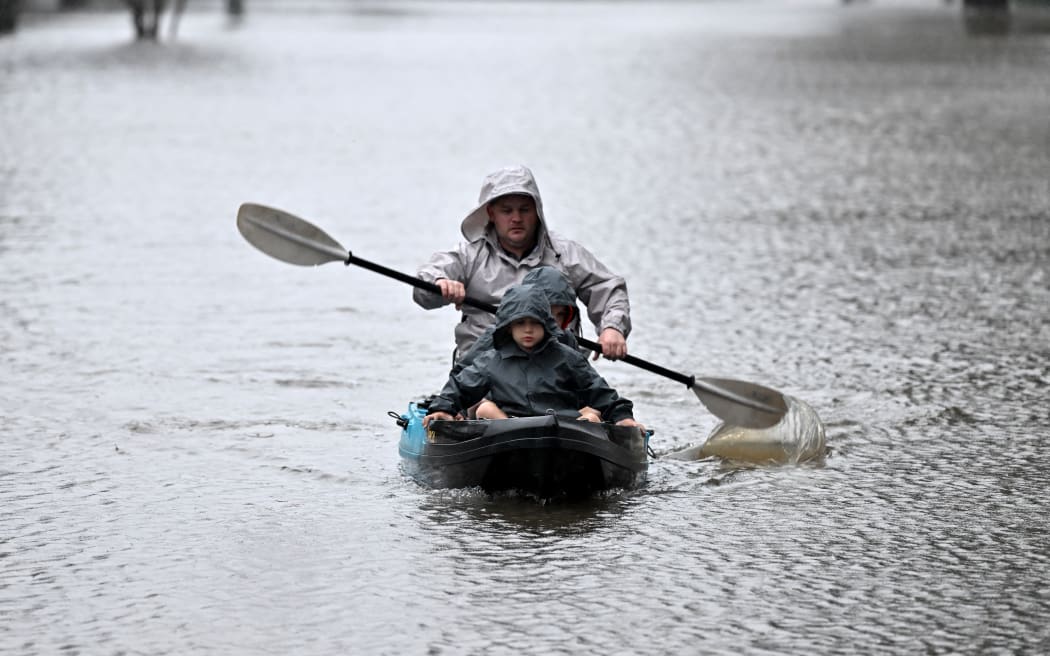 People kayak along a flooded street from the overflowing Hawkesbury river due to torrential rain in the Windsor suburb of Sydney on July 4, 2022. Photo: Getty / Saeed Khan
About 50,000 residents in New South Wales, most in Sydney's western suburbs, have been told to either evacuate or warned they might receive evacuation orders, up from Monday's 30,000, authorities said.
The state emergency service currently has 10 evacuation centres open.
"This event is far from over, please don't be complacent," New South Wales Premier Dominic Perrottet told reporters. "Wherever you are, please be careful when you're driving on our roads. There are still substantial risks for flash flooding."
The latest wild storm cell – which brought heavy rains with several places receiving more than Australia's annual average rainfall in three days – is likely to ease in Sydney from Tuesday as the coastal trough moves north, the Bureau of Meteorology (BoM) said.
But the risk of flooding could remain through the week with most river catchments already near capacity even before the latest deluge.
Parts of Sydney have received about eight months of rain in four days.
About 90mm of rain could fall over six hours in the state's mid-north coast from Tuesday, reaching up to 125mm in some places, BoM said.
Winds up to 90km per hour are also forecast in several flood-hit places, raising the risk of falling trees and power lines.
"We're asking people across Sydney today to please stay at home unless you really need to leave the house," state Emergency Management Minister Steph Cooke said.
The federal government late on Monday declared the floods a natural disaster, helping flood-hit residents receive emergency funding support.
Emergency crews will continue their rescue operation to tow a bulk carrier ship that lost power off the coast of Sydney after tow lines broke in severe weather, officials said.
Major flooding is occurring at Windsor in Sydney's west, which is going through its third flood this year, with current water levels higher than seen in the deluge early this year, the weather bureau said.
Footage on social media showed submerged roads and bridges, while emergency crews rescued stranded people from partially submerged vehicles that became stuck in rising waters.
Nigel Myron, a Windsor resident, said he has kept an inflatable boat ready if he had to evacuate though he is looking to move back to his place once waters recede.
"At the end of the day, what can you do? It is what it is and we dust ourselves off from the ashes and rebuild after the floods have come and gone," Myron told ABC.
Speaking after evacuating his partner from their house by kayak, Tyler Cassel said locals were tired of the constant threat to their homes and lives.
He moved into his home in the Sydney suburb of Windsor last year, and was told major flood events were supposed to be "one in 25 years, one in 50 years or whatever it was".
"Now it has been three in 2022," he told ABC.
"We've become experts around this area now… you are almost living on the edge."
Experts say the flooding emergency has been worsened by climate change and a La Niña weather phenomenon. A La Niña develops when strong winds blow the warm surface waters of the Pacific away from South America and towards Indonesia. In their place, colder waters come up to the surface.
Crops wash away
Some farmers are seeing their crops wash away, infrastructure destroyed and animals lost for the third time this year.
The National Farmers Federation says the affected area, stretching from the Illawarra to the Central Coast, covers about $1 billion worth of produce.
Consumers are paying more at the supermarket, but flood-hit farmers like Neil Baker say they're yet to see the benefits flow back.
"There's a huge lag in us covering our input costs," Baker said.
"For example with our pork prices, they're holding and it really should be another 50 or 60 cents a kilo more than what it is now."
The Commonwealth is releasing emergency funds for primary producers in disaster zones, but North Richmond farmer Rhiannon Phillips says there's more that can be done.
"The fact that agriculture is one of the lowest-paid industries is so sad," she said.
– Reuters / ABC / BBC