Russia and Belarus have started 10 days of joint military drills amid ongoing fears of a Russian invasion of Ukraine.
Belarus is a close ally of Russia and has a long border with Ukraine.
France called the drills – believed to be Russia's biggest deployment to Belarus since the Cold War – a "violent gesture". Ukraine says they amount to "psychological pressure".
UK Prime Minister Boris Johnson said on Thursday that Europe faces its biggest security crisis in decades.
Russia has repeatedly denied any plans to invade Ukraine despite massing more than 100,000 troops at the border.
But the US and other Western countries have warned that an attack could come at any time.https://buy.tinypass.com/checkout/template/cacheableShow?aid=tYOkq7qlAI&templateId=OTBYI8Q89QWC&templateVariantId=OTV0YFYSXVQWV&offerId=fakeOfferId&experienceId=EXAWX60BX4NU&iframeId=offer_0e763acc7b457c03340a-0&displayMode=inline&widget=template&url=https%3A%2F%2Fwww.bbc.com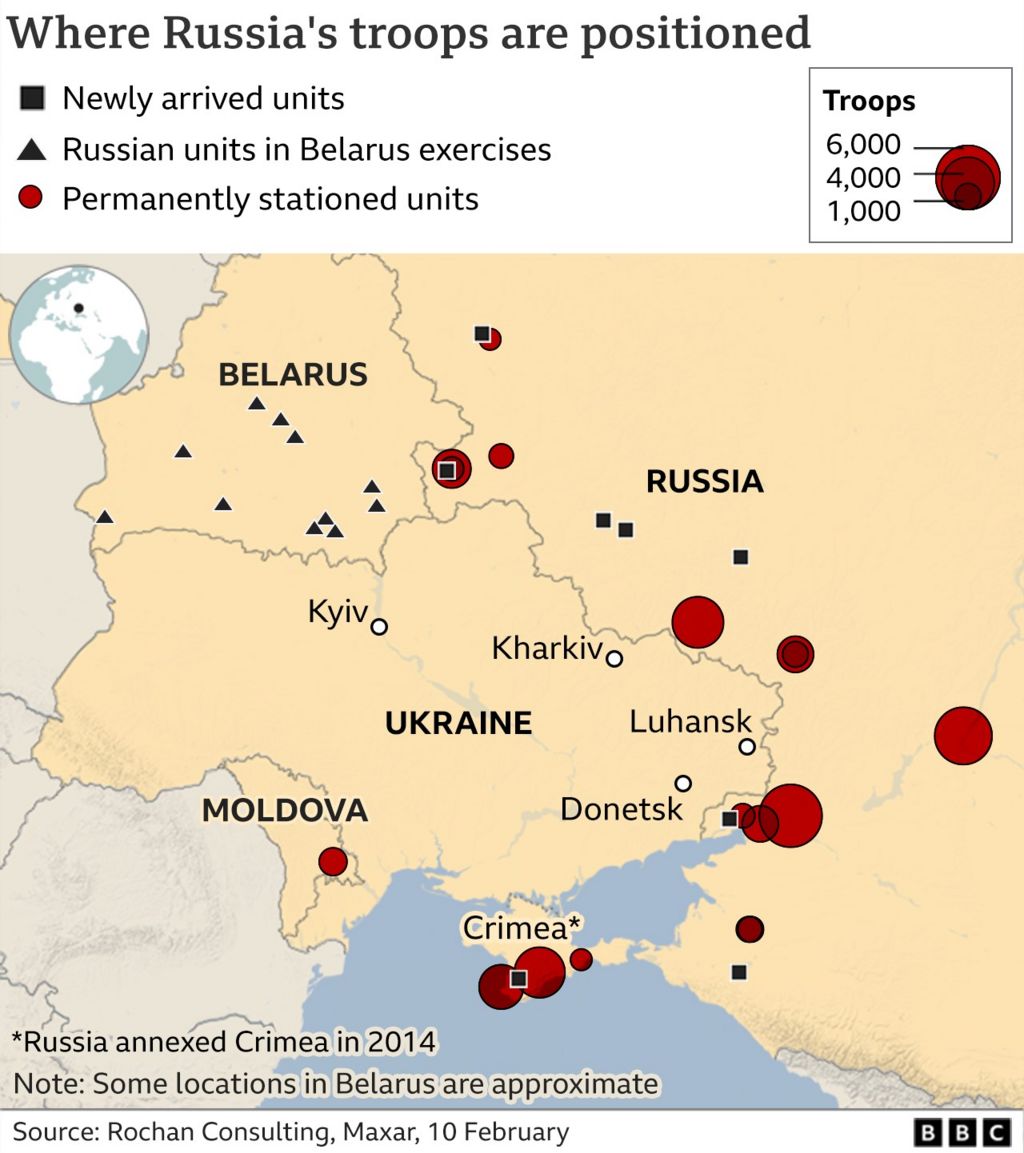 The exercises – known as Allied Resolve 2022 – are taking place close to the Belarusian border with Ukraine, which is a little over 1,000km (620 miles) long.
There are fears that if Russia tries to invade Ukraine, the exercises put Russian troops close to the Ukrainian capital, Kyiv, making an attack on the city easier.
Belarus leader Alexander Lukashenko is a firm ally of Russian President Vladimir Putin and the two countries have created a so-called "Union State" which includes economic and military integration. The Kremlin backed Mr Lukashenko after a disputed election in 2020 that led to protests in Belarus.
'Psychological pressure'
The US says some 30,000 Russian troops are expected to take part in the drills with Belarus, although Moscow and Minsk have not disclosed the exact number of participants.
The objective of the war games is to practice "repelling external aggression with a defensive operation", according to the Russian defence ministry. Troops will also perform drills to protect the border and block delivery channels for weapons and ammunition.
Russia insists that it has the right to move its troops freely across its own territory and that of its allies with their agreement. It says the troops in Belarus will return to their bases after the exercises.
A Kremlin spokesman described the joint drills as serious, saying Russia and Belarus were being "confronted with unprecedented threats".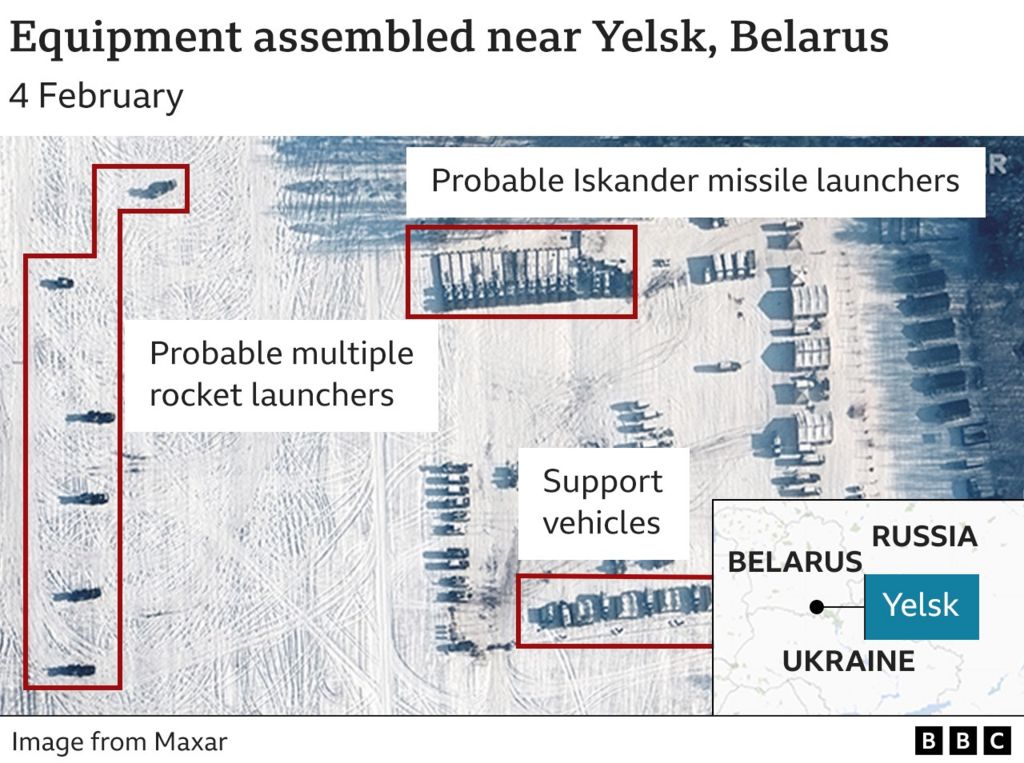 But Ukraine and its Western allies have expressed concern over the drills.
"The accumulation of forces at the border is psychological pressure from our neighbours," Ukrainian President Volodymyr Zelensky said on Thursday.
French Foreign Minister Jean-Yves Le Drian told France Inter radio that it was a "very violent gesture", and the US has called the exercises an "escalatory" move.
'Dangerous moment'
Moscow says it cannot accept that Ukraine – a former Soviet republic with deep social and cultural ties with Russia – could one day join the Western defence alliance Nato and has demanded that this be ruled out. It has been backing an armed rebellion in eastern Ukraine since 2014.
Russia's EU ambassador Vladimir Chizhov, however, told the BBC that his country still believed diplomacy could help de-escalate the crisis over Ukraine.
UK Prime Minister Boris Johnson is travelling to Brussels and Warsaw on Thursday in support of Nato allies. After meeting Nato's Secretary General Jens Stoltenberg he said he didn't think a decision about a Russian invasion of Ukraine had been made yet, but warned that the danger to European security was immediate.
Meanwhile the UK's Foreign Secretary Liz Truss met her Russian counterpart Sergei Lavrov in Moscow on Thursday. She said Russia should move its troops away from the Ukrainian border if it was serious about using diplomacy to defuse the crisis.
Mr Lavrov accused Western politicians of using Ukraine as a "crutch" to "improve their ratings".
Further talks aimed at reducing the tensions are expected to take place later on Thursday, and will include Russian and Ukrainian envoys along with France and Germany – known as the Normandy quartet.
There is some suggestion that a renewed focus on the so-called Minsk agreements – which sought to end the conflict in eastern Ukraine – could be used as a basis to defuse the current crisis.
Ukraine, Russia, France and Germany backed the accords in 2014-2015.
France's ambassador to the US, Philippe Etienne, tweeted that the Minsk agreements should be used to "build a viable political solution".
Moscow has repeatedly blamed what it calls "the Anglo-Saxon nations" for escalating tensions around Ukraine.
And it described the UK's claims that the Kremlin planned to install a pro-Russian puppet government in Ukraine as hysteria.

Statements must be taken with a pinch of salt

Do you find yourself anxious about war, but confused as to what's REALLY going on? You're not alone. To start with, terminology in the Russia-Ukraine crisis can be dizzying: Minsk Agreements, Nordstream 2, the Warsaw Pact and the Normandy format … What are they, and how significant?
And how can you be clear about what's going on, if even key political players seem unsure. Does Vladimir Putin plan to invade Ukraine? Or is he serious about dialogue? We're familiar with his security demands from Nato, but what is he willing to accept?
Frustratingly, we can't even get clarity from the umpteen press conferences held by prominent international politicians, zooming around the region, hoping to de-escalate the crisis.
And why? Because this is a massive geopolitical struggle between Russia and the West. No-one wants to reveal their negotiating hand. Public statements, then, need to be taken with a decent-sized pinch of salt.