US East Coast residents are running out of time to flee before Hurricane Florence hits the region as soon as Thursday evening, officials warn.
The storm was downgraded to category three with maximum sustained winds of 120mph (195km/h), but officials say it is still "extremely dangerous".
Up to 1.7 million people have been ordered to evacuate across South Carolina, North Carolina and Virginia.
Four South Carolina motorways have been diverted one-way to speed the exodus.
On Wednesday, Georgia declared a state of emergency, following the Carolinas, Virginia, Maryland and Washington DC.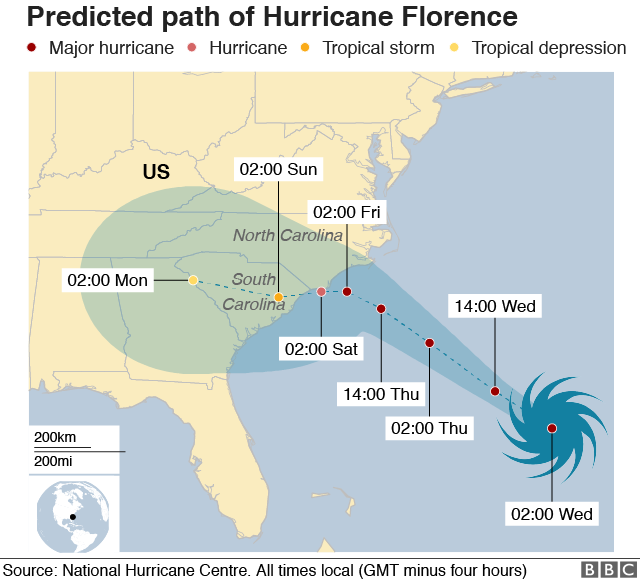 A National Weather Service forecaster said: "This will likely be the storm of a lifetime for portions of the Carolina coast.
"And that's saying a lot given the impacts we've seen from Hurricanes Diana, Hugo, Fran, Bonnie, Floyd and Matthew.
"I can't emphasise enough the potential for unbelievable damage from wind, storm surge and inland flooding with this storm."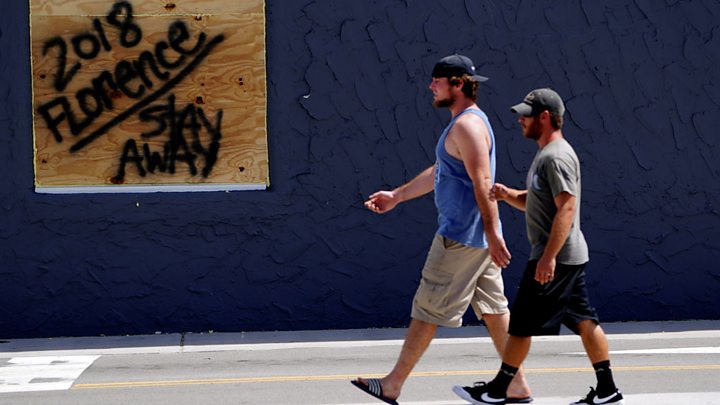 Jeff Byard, of the Federal Emergency Management Agency, said: "This is going to be a Mike Tyson punch to the Carolina coast."
North Carolina Governor Roy Cooper warned that "disaster is at the doorstep", and "tens of thousands" of buildings may be flooded.
Waves 83ft (25m) tall were recorded at sea on Wednesday morning.
But while many coastal residents have complied with mandatory evacuation orders, others are boarding up their homes and vowing to ride out the storm.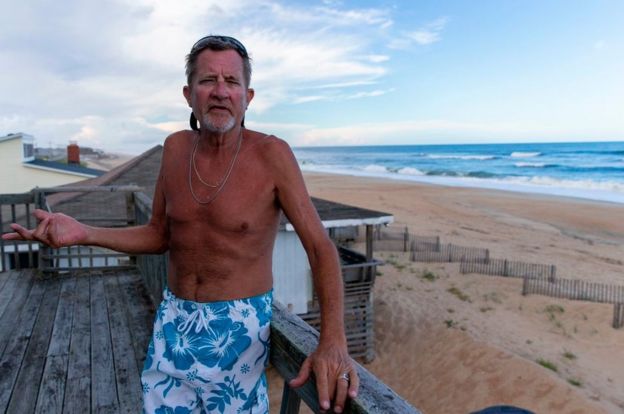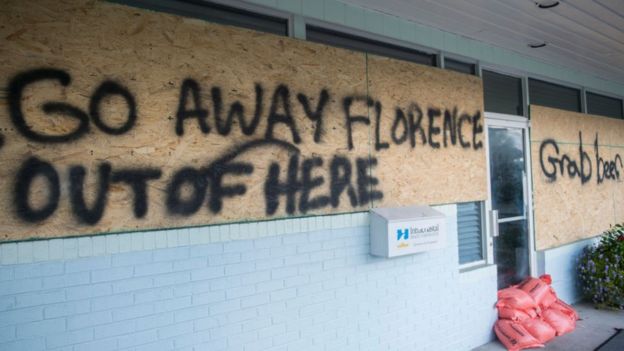 In other developments:
Florence could wreak more than $170bn (£130bn) of havoc and damage nearly 759,000 homes and businesses, says analytics firm CoreLogic
North Carolina farms are moving livestock to safety. In 1999, Hurricane Floyd left hundreds of thousands of dead hogs and chickens floating in floodwaters in the state
Nearly 1,000 prisoners in South Carolina will not be moved from their cells, despite a mandatory evacuation order in the area. "In the past, it's been safer to leave them there," said a state department of corrections spokesman
There are fears for wild horse herds in North Carolina's Outer Banks, but experts say these equines can sense bad weather coming and head to higher ground
In a video posted to his Twitter account on Wednesday, US President Donald Trump warned residents in Florence's bullseye to heed official warnings.
"Get out of its way, don't play games with it," said Mr Trump. "It's a big one, maybe as big as they've seen, and tremendous amounts of water."
"Bad things can happen when you are talking about a storm this size. It's called Mother Nature. You never know, but we know. We love you all, we want you safe."
European astronaut Alexander Gerst shared images of Florence's eye wall from space, calling the storm a "no-kidding nightmare".

What makes Florence so dangerous?
Forecasters say the storm poses such a threat because it is expected to slow down and hover for nearly two days over the Carolina coast, before dipping south towards Georgia.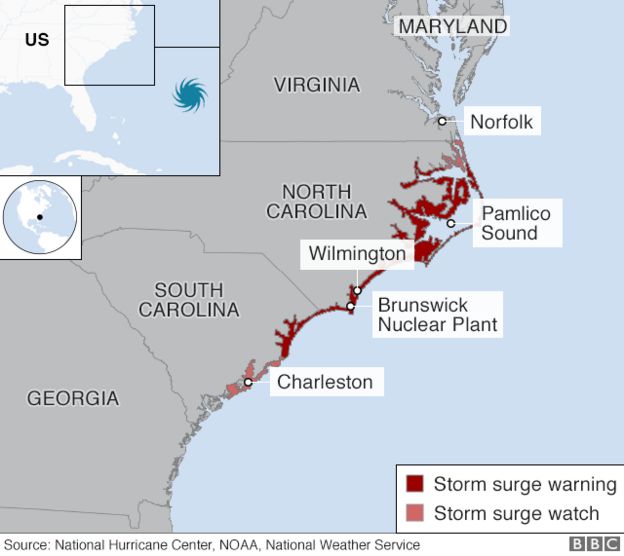 It is forecast to bring 20-40in (50-100cm) of rain and life-threatening storm surges of up to 13ft. As of Wednesday evening, officials say these surges are now "highly likely" as Florence churns closer.
The National Weather Service also predicts "catastrophic flash flooding and prolonged significant river flooding" in parts of the Carolinas and Appalachians.
Hurricane force winds will emanate up to 70 miles from the centre of the storm, say meteorologists.
-BBC